While I am enjoying my girls being away with their Grandparents for a week, I thought I'd scrap some fairly random photos of what a particular corner of our family room looks like on a regular basis. Only worse!
I'm playing along with another of Shimelle's Sketch to Scrapbook Page sketches and am just squeaking this one in under the wire!
Here's the sketch I'm using.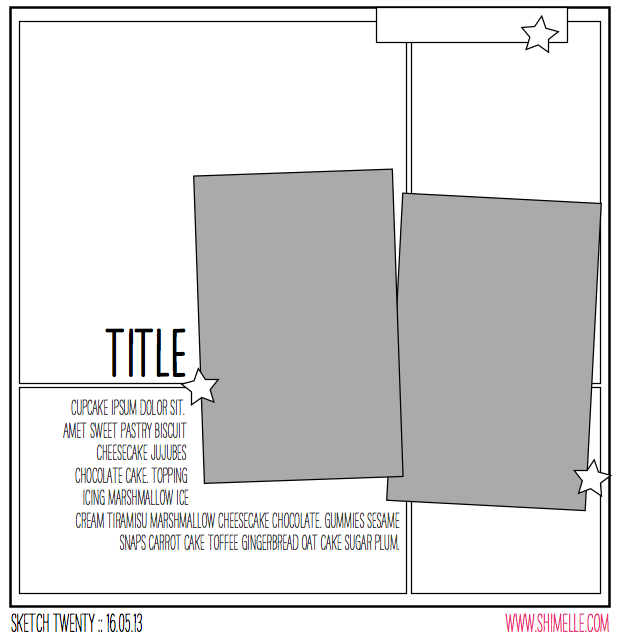 As you can see, I changed things up a bit to incorporate 2 landscape 4×6 prints plus one portrait 4×6 instead of the two portrait photos shown in the sketch.
Here are some close up shots of the details.
Note to self: remember that your Perfect Pearls are still wet before you accidentally brush against it while applying Stickles to the flower centres!!
I struggled a bit with the title. I went back and forth between a long title along the lines of "this is what happens when you give a girl some scissors" to "creative play" but in the end went with something that reflected how I feel and what my reaction is every time I look at this area of my house. I'm really not sure what I was thinking would happen when I created a "craft table" for my girls. But the reality of how messy this area is ALL THE TIME depresses me. The loving mother in me embraces my daughter's creativity but the neat freak in me (yes, I do have an inner neat freak despite evidence to the contrary) cringes when I look at this Corner of Chaos!
I have been loving all the cork accents I've been seeing on the boards lately and have so far resisted the temptation to stock up at Michael's. On a recent purge of my scrap bin though I came across some sticky back cork scraps so I got to work with my Big Shot and some Nestabilities to create my own.
That's it. Off to add my linky and then hop in the shower. I have a rare Sunday off work so Greg and I are planning to head to the Ladner market for the first time this summer. We love to wander all the stalls and the opportunity to do it sans enfants is one not to be passed up! Hope you all have a great Sunday. I'll be back tomorrow with another Let's Get Sketchy layout reveal. See you then!
If you liked this post, say thanks by sharing it with your friends.