I took some time to play along with one of Shimelle Lain's Sketch to Scrapbook Page challenges. I love her sketches and this one with the sunburst was perfect to tell a story about my little ray of sunshine, Christine.
Here's the Sketch.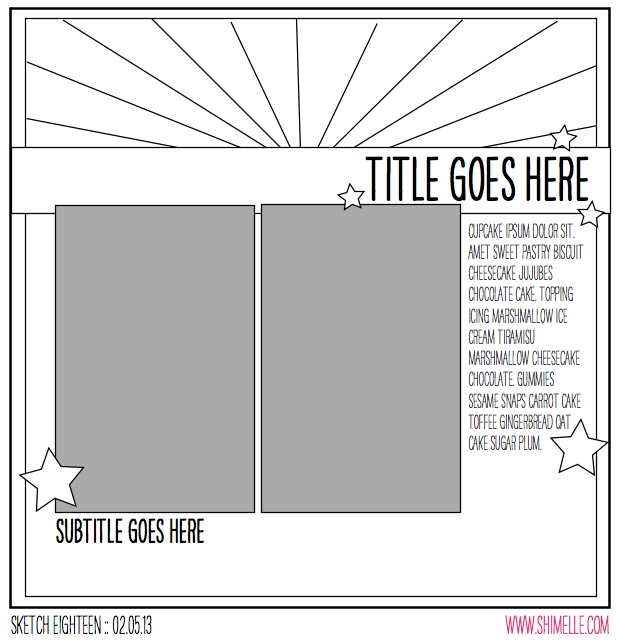 And here's what I did with it … after a 90 degree turn!
These are more photos from the Mother's Day tea at Christine's preschool. I created another layout for the Scrapbook News and Review blog which you can see by clicking the link. She was just so excited to have me there. Her grin was ear to ear the entire time!
Here are some of the detail shots.
I wrapped the journaling around the top picture of her super excited expression to emphasize it.
The 'Thanks' is popped up with dimensional adhesive and the little die cut flower was embellished with some Liquid Pearls.
This corner of the photo was the perfect spot for a couple of stickers and you can see where I used the Liquid Pearls to add embellishment around the page too.
My title was best placed vertically and I used two types of alphabet stickers for interest and also because I didn't have enough in one font for the whole title. 🙂
When I was looking through my stash for border pieces I found this orange alphabet one which curved when I laid it down on the paper. I really liked how it looked so that's how I adhered it. It emphasizes the sunburst pattern and the alphabet speak to the location – a preschool. Love when things seem made for a layout, don't you?!
Well, I have a house full of girls who want to play in the pool so I'd better go and do some parenting or something. 🙂
Have a great day. Oh, and tomorrow you will want to pop by as I have a very special Guest Designer!! She's got 10 awesome tips for you so be sure to be back tomorrow!
If you liked this post, say thanks by sharing it with your friends.