Today I am super excited to welcome to the blog, Alice Boll!
She has graciously agreed to share 10 ways to use your stash and you know how near and dear that is to my heart!! So, without further ado … heeeeeerrrre's Alice!!
Stash Bash!
Hey there! I'm Alice from Scrapbook Wonderland. My passion is helping people find creative ways to share their memories, through the wonderful art of scrapbooking. Thank you Alison for letting me share my tips and tricks here.
If you've been scrapbooking for a while you probably have a few items in your 'collection'! I've been scrapbooking for over 14 years… my collection is considerable! (No, I'm not going to use the "H" word, it's not hoarding if you are using it, right?)
The problem is, how can you be motivated to use old products when you have beautiful, shiny, exciting new ones? That stash of old products is taking up valuable room in your scrap space!
Here are 10 tips to help you bash that stash!
1. Challenge yourself. Challenge yourself to create a page using ONLY old products. You bought these supplies because you loved them once. By forcing yourself to work with them you can rediscover the love.
2. Mix the old and the new. Try using old products with new tools. You can use a new die cut with old paper, old ribbon to match new paper, or an old embellishment (anyone have any eyelets?) with all new products.
3. Find ways to give new life to an old item. If you have some not so beautiful patterned papers you should always check the back. Double sided paper may be more attractive on the other side. If it's single sided you now have some white paper to use. There's no rule that says you have to use the ugly patterned side! If you don't use a lot of white paper on your layouts you can use this paper to sketch out ideas or to test stamp images before stamping on your layout.
4. Create cards. I often use up my leftover supplies from a layout by creating greeting cards. I've already selected products that work together so creating the cards is simple. Now I have cards ready to grab when the occasion arises. Bonus: I don't have to figure out how to store the leftover pieces!
5. Use scraps creatively. Create interesting backgrounds, like patchwork, strips and layers. Leftover embellishments are great for creating embellishment clusters with a bit of variety. Leftover alphabet letters have many creative uses too.
6. Play and create. Get creative and make something that matches. Paint, stamp, spray, die cut, texturize. Use old products to test out techniques you'd like to try, if you are not happy with the results you didn't 'waste' your new stuff!
7. Let kids scrapbook with you. Giving a child free reign with your tired old supplies will show you the value of these items… and you might pick up some interesting new ideas.
8. Organize your supplies. If you don't know what you have, and where it is, you won't use it! Just don't get caught in the trap of spending all of your time organizing and not scrapbooking! To get you started check out THIS POST about organizing punches.
9. Swap old items with a friend. Your garbage may be her new treasure! This is especially fun if you bring several people for a scrapbooking swap meet/garage sale.
10. Donate. After organizing and swapping your unloved supplies you may still have items that you know you will not use. Some local hospitals have a therapeutic scrapbooking program. Libraries and schools are often looking for craft supplies. Be sure to ask before you drop your supplies off to be sure they can be put to good use.
To help with this I keep a box in my scrapbook room for any items I come across all year. Leftover embellishments I don't want, patterned paper I don't like and any tools that have outgrown their usefulness to me. When I'm ready to donate I grab the box and go!
What do you do to use up your old supplies? Which tip do you think will work the best for you? I'd love to hear your responses. Have a stash bash question? Leave it in the comments and I'll do my best to answer it for you. You are also welcome to join me at ScrapbookWonderland.com for more useful scrapbooking tips and tricks.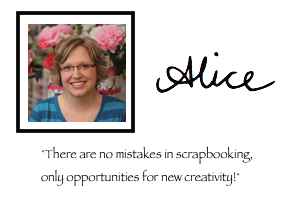 If you liked this post, say thanks by sharing it with your friends.