Welcome to Make It Monday!
You may be arriving here from Connie's site. Love birthdays + cakes + card making + things a bit wonky? Then check out her post by clicking here!
Today I want to introduce you to something that I've been having fun with this past week. A decision and purchase I made last month that I already know was well worth it and WAY overdue!
I subscribed to another kit club. This time, the Simon Says Stamp monthly card kit. You know you love something when you start using it right away. When you rip into the package, ooh and aah over the contents, and the next thing you know you've got a finished card in your hands! When you use it all up.
Kids show their love for your dinner offerings by cleaning their plates and asking for seconds, right? Well, if could have asked for a second helping of the Simon Says Stamp August Card Kit I would have!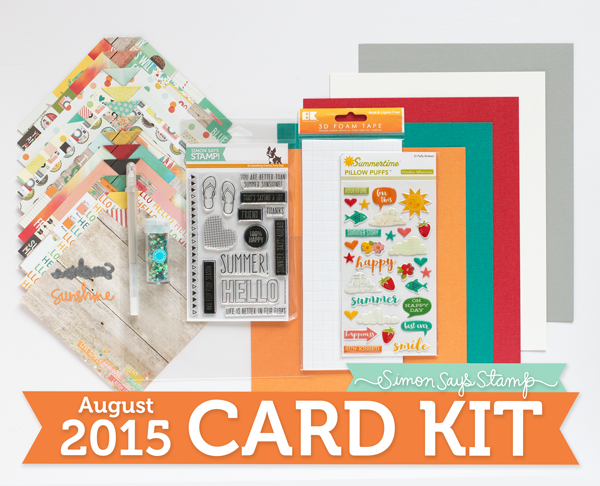 Doesn't it look fun and summery?!
I created a total of 13 cards from the kit. When I say I used it all up, I mean I was left with two puffy stickers and a few scraps of patterned paper. That's it! Gotta love that, right?
Want to see what I made?
Here are a few of my favourites. If you are interested in a close up view of the rest (and/or buying any of them) please visit my Etsy Shop here.
If you are interested in purchasing any of the items that were included in the kit, here are some links. Please note that the link to the Simple Stories paper is an Amazon link as all the online stores seem to be sold out. It's that good! If you have a local Scrapbook Store I'd suggest calling them to see if they have it in stock!
Simple Stories Summer Vibes collection 6×6 paper pad  
Simon Says Stamp Exclusive stamp set – Flip Flop Season
Simon Says Stamp Exclusive wafer thin die – Sunshine
Martha Stewart Iridescent Hearts and Stars Glitter Set (note, the kit only came with one tube – I had Blueberry Crush)
October Afternoon Summertime Pillow Puffs stickers
My stamping ink is all older Stampin' Up inks from my stash.
Okay, now you off to Melissa's site where she is keeping it simple with a 6 photo layout in just 5 steps.
Cheers! Have a great week full of sunshine everyone!
If you liked this post, say thanks by sharing it with your friends.