No, I haven't sold my children (although, we're not even 2 weeks into summer and I'm a little tempted!!) Today I am sharing a layout I made using another Sketch to Scrapbook sketch from Shimelle Lain. I shared a layout using Sketch #18 on Tuesday (see it here) and today I am using Sketch #19.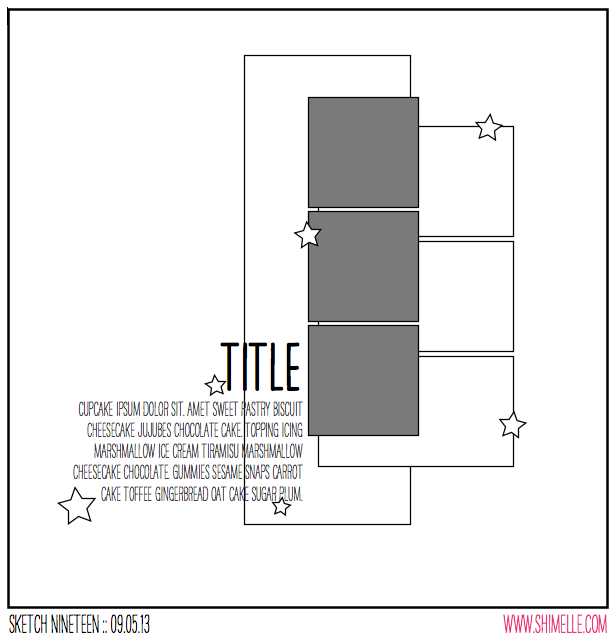 Here's my interpretation.
And now you understand where the title of this post came from!
These are pictures taken during my recent Ladies Weekend in Oroville WA so the title seemed appropriate.
I moved a few of the elements around from where they were in Shimelle's sketch, but as she said in a recent episode of the Paperclipping Round Table, sketches are a lovely way to get started on a layout but you've got to make it your own. (I am paraphrasing a LOT there, but you get the gist!!)
Here are your detail shots.
The lovely paper by Sassafras for Studio Calico had that banner detail in the upper left corner. I didn't want to cover it up completely so I trimmed the paper to 11.5″ x 11.5″, carefully cut out the very end part of the banner print then matted the paper onto dark pink card stock. That way I could pop up the end of the banner with foam adhesive and it became more of a design element than it would have been if I'd left it flat. The "oh, what a lovely" phrase was already printed on the part of the paper I trimmed so I just used it as extra detail here.
My journaling talks about how peaceful and quiet I found that first lunch at the cottage without kids running around.
My title is really a reflection of my journaling. Creating it out of so many alphabet stickers adds interest, uses my stash and hides the fact that my stash is getting to the point now where I need to do this kind of a  thing because each sheet of stickers or package of Thickers is partially used. Creating titles is becoming challenging – especially long titles like this one!
Speaking of stash, I'd punched these butterflies from a scrap I'd used on a previous project and had them in a container on my desk. Since they worked with my colours and were right at hand, they were an easy addition!
Thanks for stopping by today. Did you enjoy Alice's post yesterday on Stash Busting? I loved her tips and have been going through my scrap drawer creating a pile to let my kids play with. How about you? Do you donate your unwanted supplies or let your kids have their way with them? If you missed her post be sure to check it out here.
Have a wonderful day today. I have an early interview with our Regional Manager about the possibility of me becoming a Sales Leader at our store. Keep your fingers crossed as it would mean more pay – more hours and some child care juggling, but more pay and more interesting responsibilities. I'll be sure to keep you posted.
If you liked this post, say thanks by sharing it with your friends.