About a week ago I pulled out my Gossamer Blue December kit and a sketch from Shimelle Lain and started to put the two together when this happened.
Ack! Some of you may have seen this on my Instagram feed (feel free to follow me!) or Facebook page. I promised to share how I "fixed" it  but before I get into that, I think you need a little background context. Specifically the sketch I was using.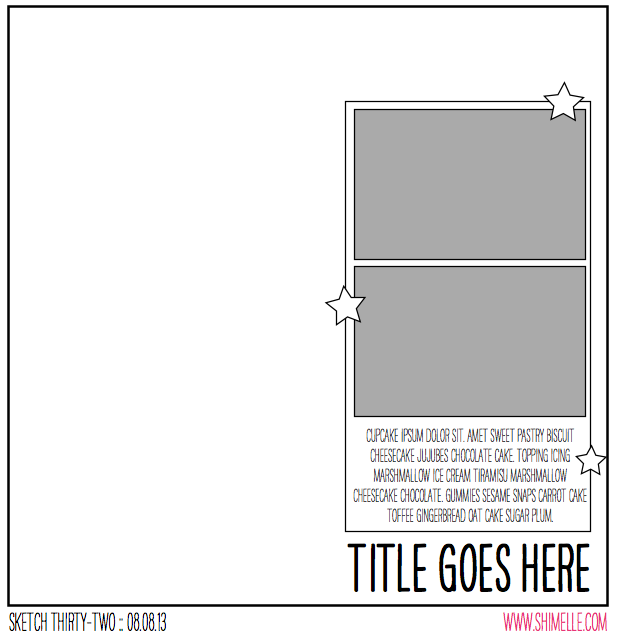 As you can see, the big splotch is right in the middle of all that gorgeous open space in the sketch. And because of the pattern on the paper, I couldn't just flip my paper to hide it under the photos (the hearts would have been sideways and I just couldn't live with that sort of wonkiness!!) So I had to come up with some other solution. Here's my finished layout.
I flipped the sketch instead of my paper and it all worked!
Lesson for the day? DON'T PANIC! Mistakes or accidents in scrapbooking are just excuses to stretch those creative problem solving muscles!
I admit that this journaling block was not on the sketch but since my paper was a bit too busy to write legibly on, I'm sure Shimelle will give me a pass! 🙂
It had a feather image on it which I used as an excuse to add all the feather stickers from the sticker sheet in the kit!
This journaling card (from a cut apart sheet) just kind of spoke to me so I had to find a way to add it in. Plus I love the weathered wood texture on it – really reminded me of our trip to Parkesville where these photos were taken.
Okay there you have it. I am NOT perfect. I make mistakes. I spill things on my layouts. But I hope I have shown you that it is not the end of the world if it happens to you. You CAN fix it!! Have an awesome Wednesday everyone!
If you liked this post, say thanks by sharing it with your friends.